MOON MAPPING PROJECT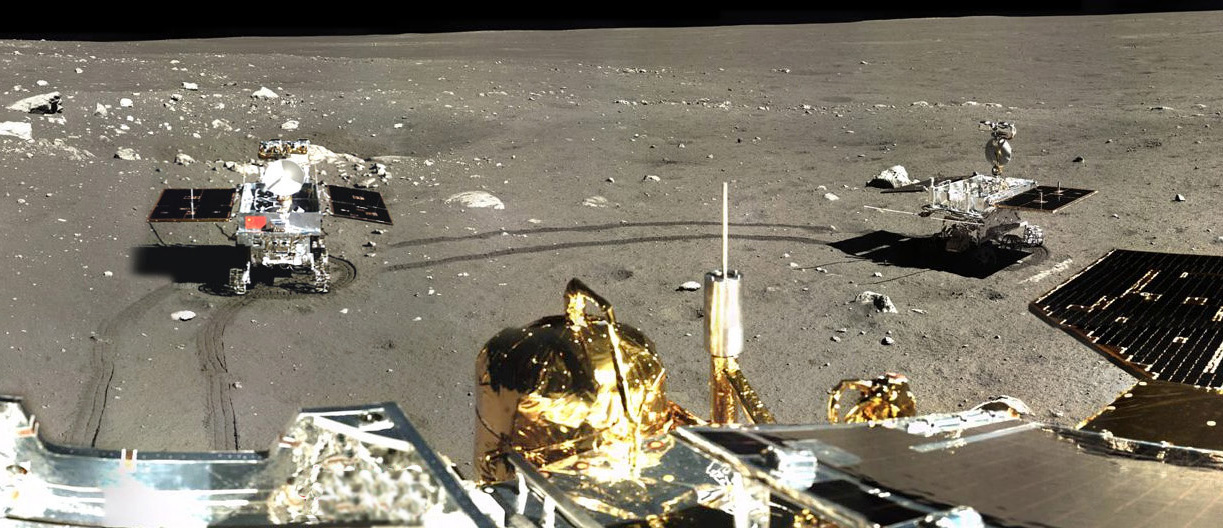 Credit: CNSA/Chinanews/Ken Kremer/Marco Di Lorenzo
The research cooperation project "Moon Mapping" was established in 2014 by the Chinese and Italian Governments to promote cooperation and exchange between students and scientists from both Countries. The operational phase of the project started in 2015 and will end in 2017 for a total length of three years. The main aim is to improve cooperation between China and Italy in the field of space exploration and to train new scholars on different kind of remotely-sensed data collected over the Moon surface by the Chinese space mission Chang'E 1 and Chang'E 2. The project coordination has been assigned to the Center of Space Exploration, (COSE) for the Chinese side, and to the Italian Space Agency (ASI) for the Italian side. Several Chinese universities and Italian national research institutes and universities have been officially involved in this project. Six main research topics have been focused: Map of the solar wind ion; Structure map of the Moon; Data preprocessing of Chang'E 1 mission; Map of element distribution; Establishment of 3D digital visualization system; and Compilation and publication of a tutorial on joint lunar mapping. Each topic is coordinated by two institutions, one per each Country. Students have been assigned to each topic to cooperate under the guide of supervisors. A schedule of mutual visits and workshops has been defined to help promote exchanges along the three years of the project. The expected follow-up will consist of scientific publication and a tutorial aimed at introducing people to work on planetary data.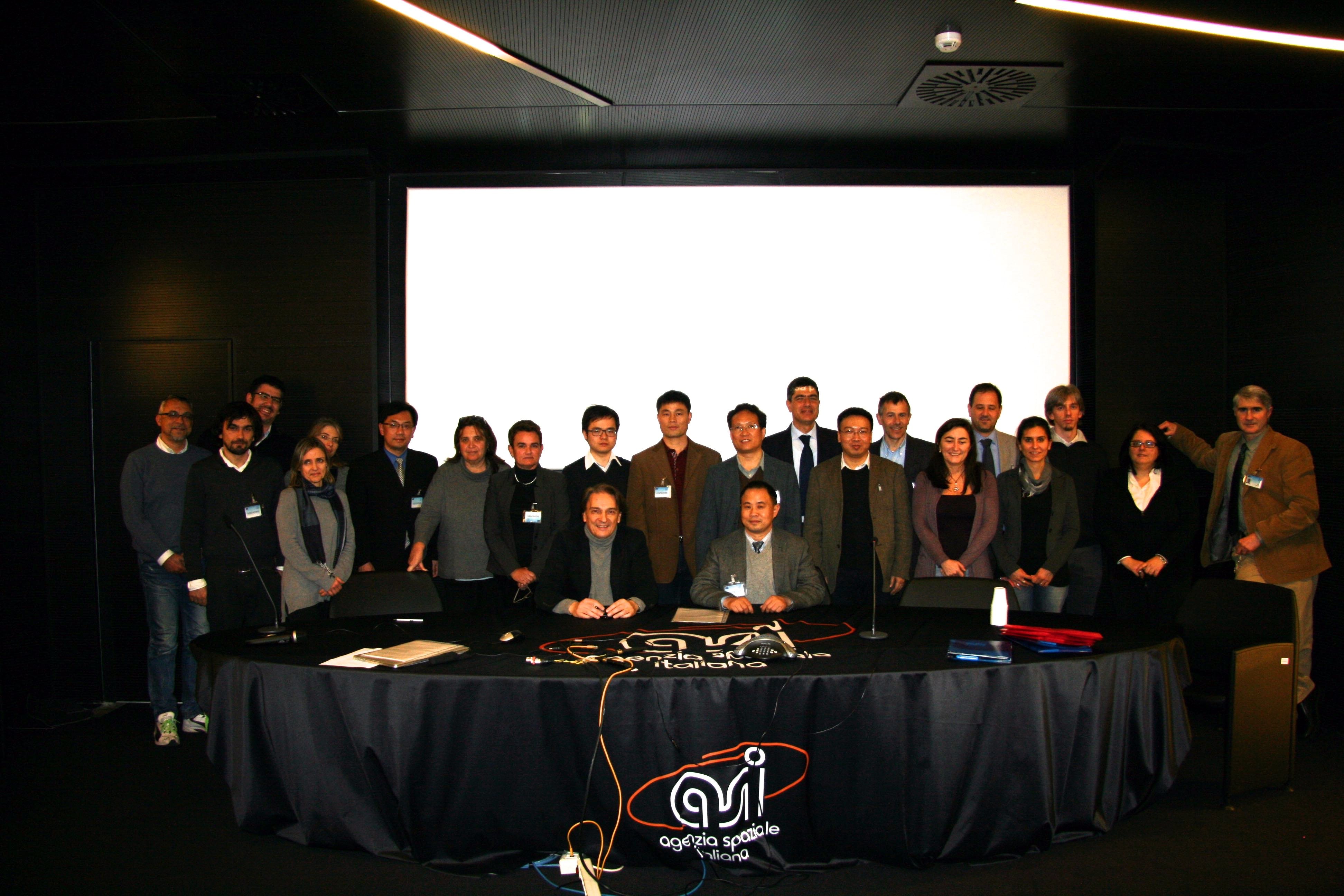 Moon Mapping Project 2nd workshop
23rd January 2015
ASI Headquarters - Rome
(restricted access)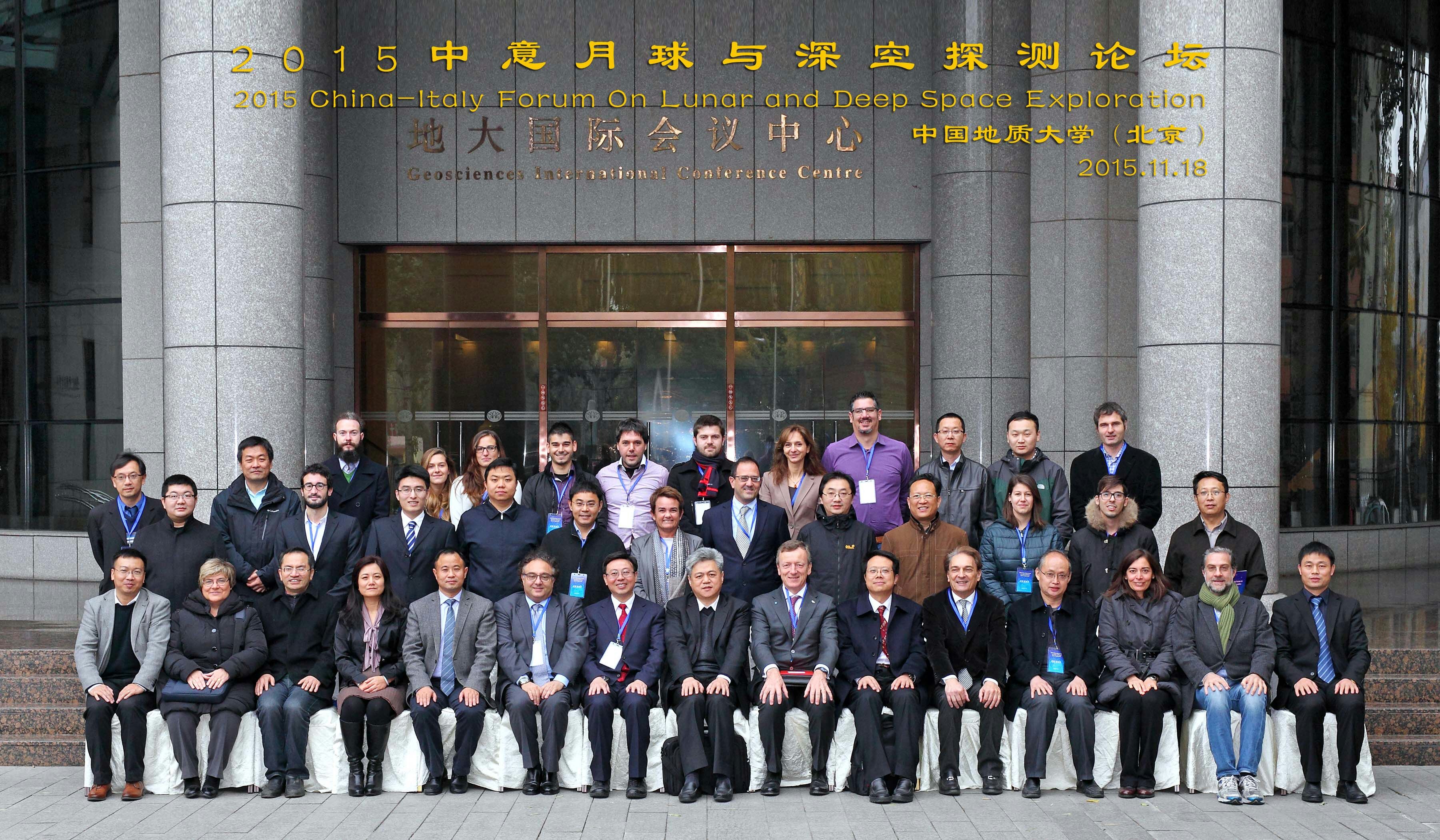 2015 China-Italy Forum on Lunar and Deep Space Exploration
18th November 2015
Geosciences International Conference Centre - Beijing
(restricted access)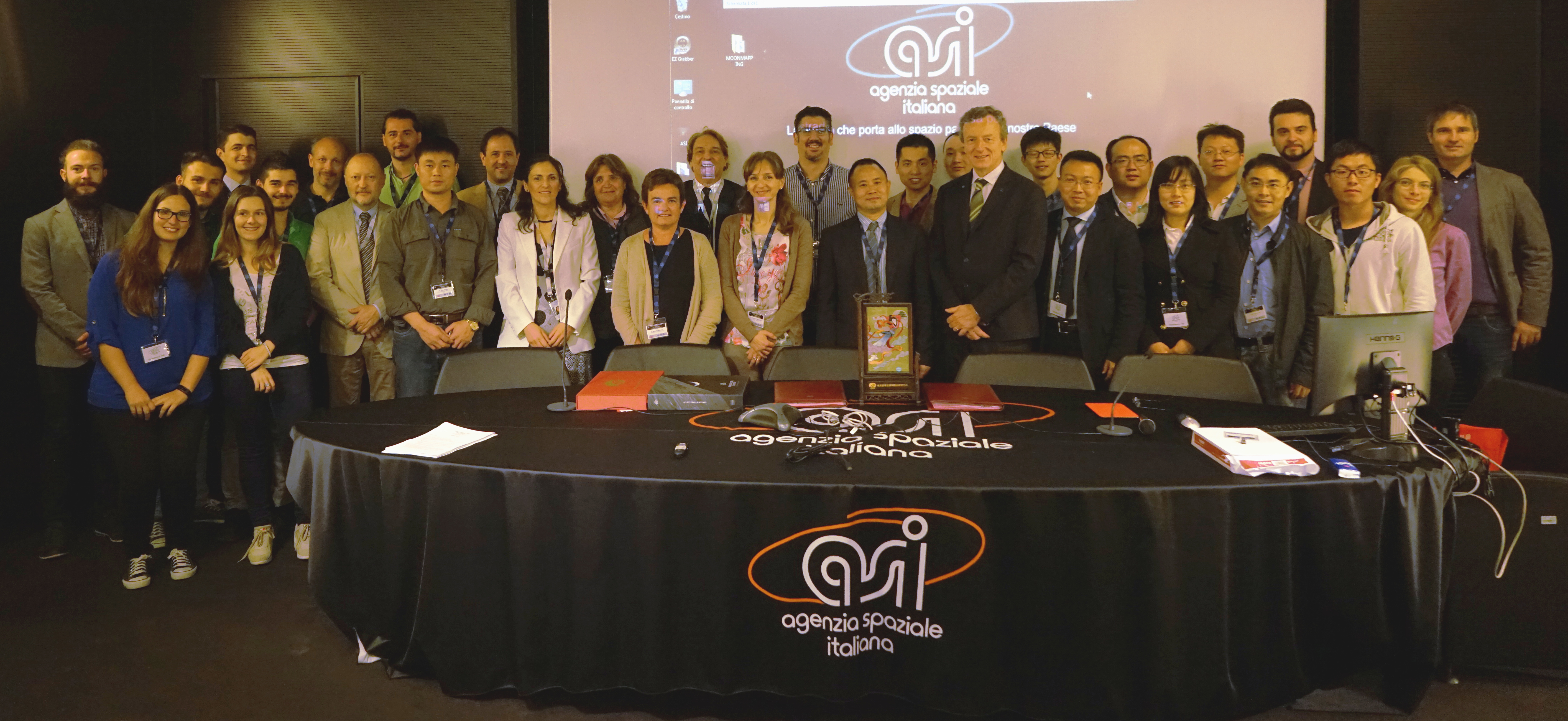 Moon Mapping Project 4th workshop
10th-11th May 2016
ASI Headquarters - Rome
(restricted access)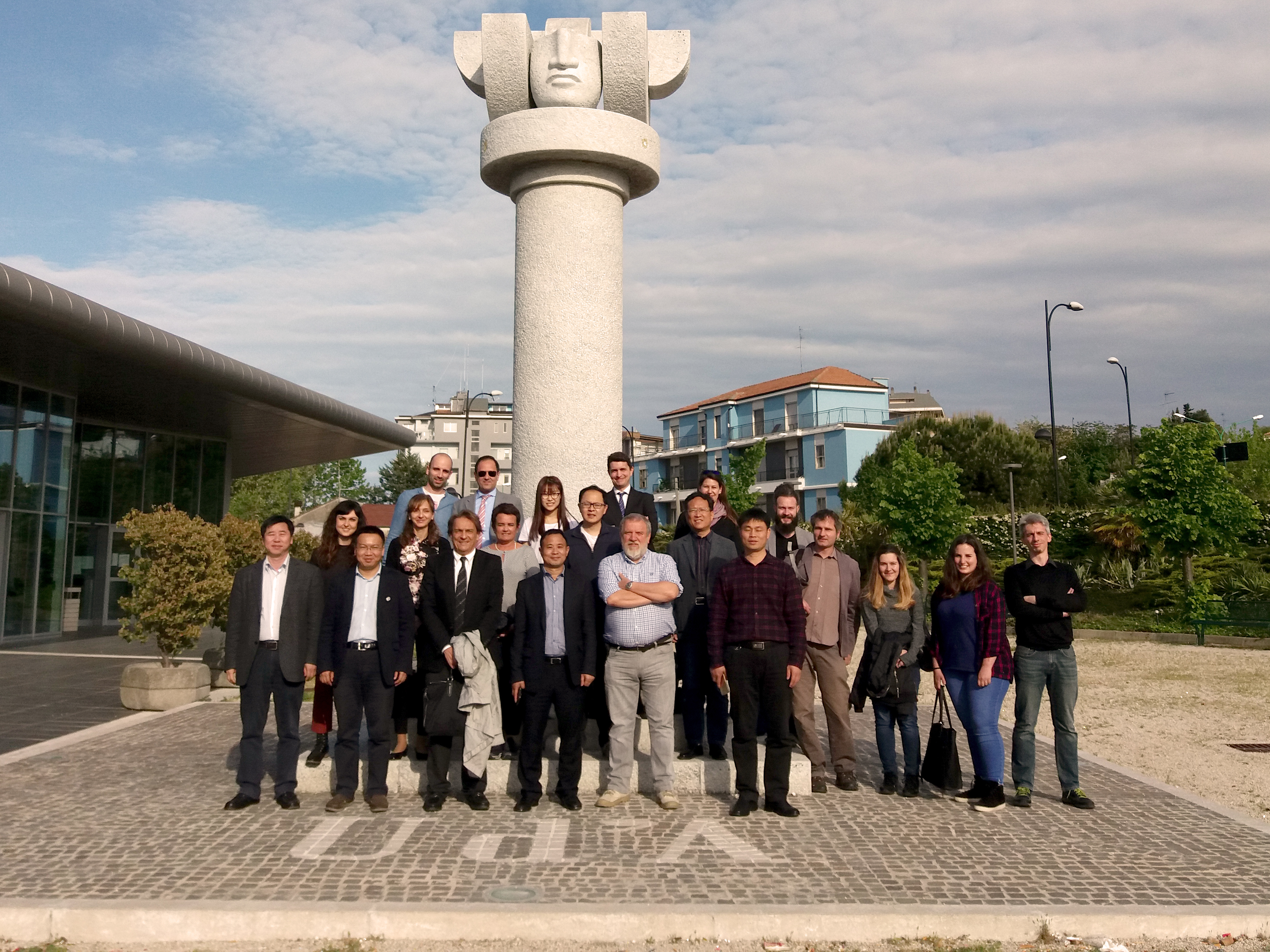 Moon Mapping Project 5th workshop
2nd-3rd May 2017
Universita' "D'Annunzio" - Pescara
(restricted access)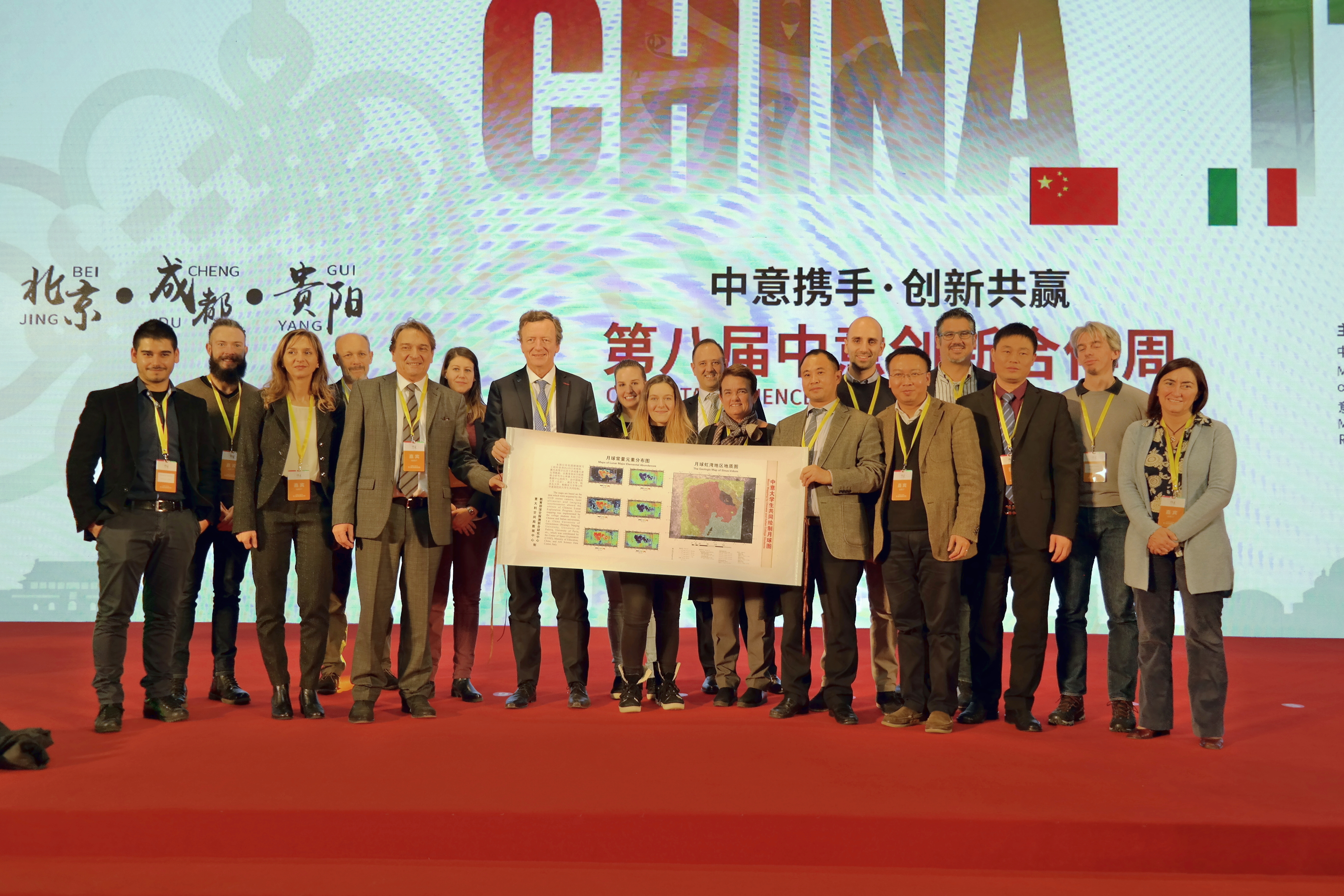 Moon Mapping Project 6th workshop
17th November 2017
Guiyang
(restricted access)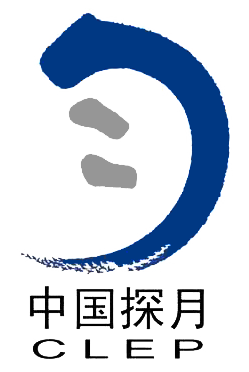 Chang'e is the Chinese lunar exploration program approved by Chinese government on 23 January 2004.

The program is made by the following systems: launch vehicle, orbiter, Telemetry Tracking and Command, launch site, Ground Segment for Data, Science and Application.

At present three different unmanned robotic missions arrived at the Moon's orbit, with the last of these, equipped with a rover, that successfully landed and worked on the lunar surface.

Before 2020, Chinese Lunar Exploration Program (Chang'E Program) focuses on robotic exploration. It includes three phases:
Lunar orbiting (2004 2007)
Soft landing and roving (2008 2014)
Sample return (2011 2020)


CHANG'E-1

Chang'E-1 was launched on 24 October 2007 with a Long March 3A carrier rocket from the Xichang Satellite Launch Center in Soutwest China, traveling 13 days to arrive at the Moon's orbit.


Its nominal mission was 1 year, but it correctly worked for 1 year and 4 months, when, On Mar. 1st 2009,it was controlled to crash on the Mare Fecunditatis after 494 days of orbital operation.


Chang'E-1 was equipped with eight scientific instruments, namely: a CCD stereo camera, a Sagnac-based Interferometer Spectrometer, a Laser Altimeter, a Microwave Radiometer, a Gamma-Ray Spectrometer, a High-Energy Particle Detector and a Solar Wind Ion Detector.


It obtained a 120m-resolution global lunar map, an elevation map, abundance and distribution maps of various chemical elements.


CHANG'E-2

Chang'E-2 mission was launched on October 1st, 2010 with a Long March 3C carrier rocket from the Xichang Satellite Launch center in Southwest China.


Its nominal mission was designed to last for 6 months, but it has been subsequently extended for more than 4 total years, conducting research from a 100-km-high lunar orbit in preparation of the December 14th 2013 soft landing of the Chang'E-3 lander and rover.


The goals of the mission was similar to the Chang'E-1 ones, but supported by improved instruments. In particular the payload was composed by a CCD-improved stereo camera, a laser altimeter, a gamma-ray spectrometer, an X-ray spectrometer and a microwave detector.


Verified some key technologies of soft landing and investigated several landing sites for Chang'E-3.


Obtained a global lunar map with 7m-resolution and local maps with 1.5m-resolution.


Observed Cr element, mini-magnetosphere, solar wind acceleration and deceleration phenomena on the moon


After its first phase, the spacecraft was manouvered to left the lunar orbit on 8 June 2011, reaching the Earth-Sun L2 point on 25 August 2011.


It also performed a fly-by of the asteroid 4179 Toutatis on 13 December 2012 and is now in a deep-space journey.


CHANG'E-3

Chang'E-3 has been launched on 1 December 2013 and is made of a lander and rover, whose mission durations were, respectively, 1 year and 3 months.
The spacecraft succesfully entered lunar orbit on 6 December 2013, landing on 14 December 2014 at 19.51° W and 44.21° N, deploying the Yutu rover several hours later.
The main mission goals were to:
analyze the morphological, structural and compositional characteristics of the landing area in northern Mare Imbrium through in-situ investigation


monitor the structure and dynamics of Earth's plasmasphere and conduct Moon-based astronomical observations.
To achieve them the mission payload comprised:
the Landing Camera and Terrain Camera on the lander and the Panoramic Camera on the rover to return data on the morphological and geological features near the lander


the Vis-NIR Imaging Spectrometer and the Active Particle-induced X-ray spectrometer on the rover to inspect the mineralogical and chemical composition along the traverse path


the Lunar Penetrating Radad to obtain data on the structure of the regolith layer and upper crust up to hundreds of meter below the surface


the Extreme Ultraviolet Camera and Moon-based Ultraviolet Telescope on the lander for the measurements of the terrestrial plamasphere and the diurnal sky.
DATA HUB

SSDC stores and provides access to a large part of Chang'e 1 dataset, and to some data acquired by Chang'e 2.
All available data can be accessed by external users using the web-tool
MATISSE
after registration and only for user part of the Moon Mapping project are:
188 Digital Elevation Models (DEMs) computed on the basis of Chang'e 1 observations (250 m per pixel)


188 Ortophoto computed on the basis of Chang'e 1 observations (150 m per pixel)


K, Th, U Elemental Abundance Maps (at 5o resolution) from Chang'e 1


187 Ortophoto from Chang'e 2 (50 m per pixel)


3244 Chang'e 1 CCD observations (Nadir, Backward, Frontward)


425 Chang'e 1 IIM imaging spectrometer observations
In a restricted access FTP server other data are available, such as partial datasets from SWID (Solar Wind Ion Detector) and CCD from Chang'e 2.